You browser is unrecognized version unknown

APPROACHING PÉCS
1. AIRPORT SHUTTLE COMPANIES FOR TRIPS OUTSIDE BUDAPEST (AIRPORT-TOo-HOTEL SERVICES)
Minibus transfer is the most convenient way to reach Pécs from the Budapest (or Osijek) airport. Companies are providing you a door-to-door transportation. The journey time from Pécs to Budapest Liszt Ferenc International Airport is around 3 hours on the average, depending on the time of the year, and on weather conditions (it may be longer in winter months and in extreme weather conditions). In case of journeys from Budapest Liszt Ferenc International Airport to Pécs, car drivers will be expecting arriving Passengers with a sheet featuring the logo of the Company. After the arrival of passengers using the classic collective shuttle service, some waiting time may occur at the airport, depending on the arrival time of the other passengers.
The times of departure from the addresses (in Pécs) specified are determined accordingly.
Primary route of travel is Motorway M6. (For more details and information, please visit the providers' webpage!)
(You can use your credit/debit card upon on-board payment, but for details, please check the providers webpage.)
Main airport shuttle companies
Mecsek Travel
http://www.mecsektravel.hu/index.php/en/
Discount: In case you choose Mecsek Travel and via the booking you indicate the promotional code of "DTI75" you can get a reduced price for return transfer with a price of 15 000 HUF (50 EUR). The offer is valid between 14 and 22 April, 2018. (In case you indicate other address than Budapest Airport in Budapest, pull-off charges in Budapest is added to this price.)
Travel4You minibus
For more information and order please visit: http://www.travel4you.hu/
Mistral
For more information and order please visit: https://www.mistral-minibus.hu/
2. AIRPORT SHUTTLE COMPANIES FOR TRIPS WITHIN BUDAPEST (AIRPORT TO TRAIN AND BUS STATION SERVICE)
miniBUD AIRPORT SHUTTLE TRANSFER
The miniBUD airport shuttle is a convenient, fast and favourably-priced transfer service between Budapest Airport – Budapest city centre – Budapest Airport. You can use our service on your own, with your friends and family, or even with a larger group. The miniBUD airport shuttle team will fulfil your order under the best terms and conditions, at the highest possible service quality. Passenger pickup at the miniBUD airport shuttle service counters located on the arrivals level of Budapest Airport.
Within half an hour of pickup, you will be on your way to Budapest. Enjoy our on-board services; connect to our free Wi-Fi network, share your travel experiences with your friends and family, respond to your emails whilst you are traveling with miniBUD. Following a carefree journey, we will drop you off at the hotel or address specified in your booking. When you book, choose our discounted return transfer service!
For more information and order please visit: https://www.minibud.hu/en
3. TRAVEL BY TRAIN
The city can be approached by Inter City trains having names related to the region like Sopianae, Dráva, Baranya, Tettye, Tenkes, PTE, Mecsek, Tubes and Zengő. The travel by train will last about three hours.
The schedule and the fares of the Hungarian railways are available online here: https://www.mavcsoport.hu/en
Please be informed that from the end of February until the summer season, part of the rail network between Budapest and Pécs is under reconstruction that means that between Kelenföld and Pusztaszabolcs train is substituted by bus service (operated by the Rail Company of MÁV). Extended journey time is expected.
4. TRAVEL BY BUS
Coaches from Budapest are departing from "Népstadion" bus station. The station in Pécs is located at the edge of downtown; therefore each district is easy to reach with the help of the local bus service.
You can reach the bus schedule at (available only in Hungarian: https://menetrendek.hu/
5. TRAVEL BY CAR
The easiest way to reach Pécs is through the route 6 and the M6 motorway. You can join someone: the car sharing services are popular among students from across the country. It's cheaper than if we would travel alone, and – since most of the car sharing systems have a serious feedback / evaluation system- it is much safer than hitchhiking. (And it fits to circular economy :))
Useful links:
http://www.oszkar.com/ (only in Hungarian)
https://www.blablacar.hu/ (in Hungarian)
FARES WITHIN PÉCS
Taxi
When once you have arrived in Pécs you can continue your trip either by taxi services. There are several taxi companies, but the oldest and largest is VOLÁN TAXI. The fair will cost you up to the distance of your hotel 3000-6000 HUF.
For more information and pre-order: http://volantaxi.hu/en/index.php
Bus
However, you can take the bus as well to your hotel. The railway station in Pécs is located in a walking distance from the city centre and in the neighbourhood of the central bus station (in Hungarian the "Főpályaudvar"), making the transportation in the city easier for visitors.
A useful link to approach attractions: http://www.iranypecs.hu/en/info/compass/trafic/how-to-get-there.html
GETTING AROUND PÉCS BY CAR
Public parking and access to restricted and protected Zones
Public parking
I. Zone – colour code: Red – Monday-Friday: 08:00-18:00 Saturday: 08:00-13:00
II. Zone – colour code: Blue – Monday-Friday: 08:00-17:00 Saturday: Free
III. Zone – colour code: Yellow – Monday-Friday 08:00-17:00 Saturday: Free
The minimum waiting time is 15 minutes in all cases.
Access and parking in restricted/protected zones
The regulation of Pécs Local Authority divided the historic centre and the neighbouring areas into a restricted and two protected "pedestrian" and "walking" areas. All parking spaces outside the above mentioned zones are operated in a parking zone and they can be used for a parking fee.
Accessing the restricted and protected areas is only allowed with access and waiting permission issued for inhabitants, institutions, goods transport, construction, property maintenance or the carrying out of public duties, furthermore free or not free on demand permissions to access and/or wait in the zone can be issued based on the present regulation in other cases. Fee is payable in case of accessing the areas with three or more wheel vehicles only.
The Hotels located in the protected areas will provide you with entrance and parking licences.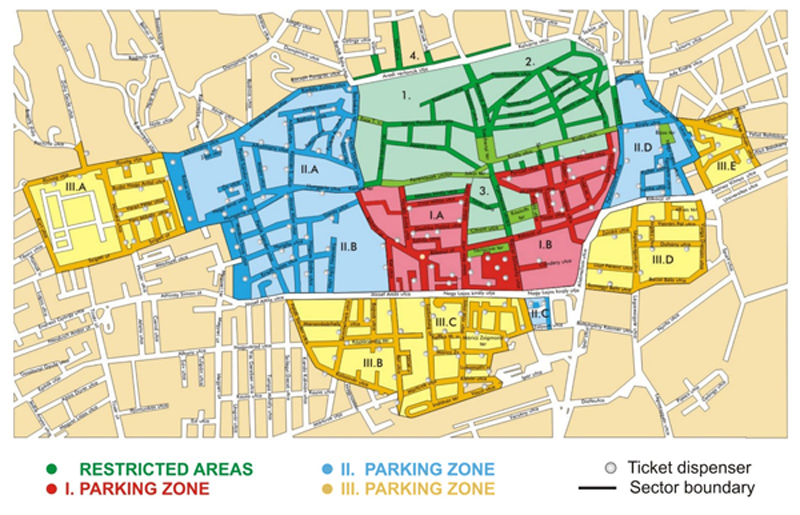 CURRENCY
Hungary's currency is the Hungarian Forint. This is either shortened to the code HUF or the symbol Ft. When buying things, locals are most likely to just say "Forint", pronounced for-int. Euros might be accepted at several places with the store's exchange rate displayed on the counter, but change is likely to be given in Forints.
However, major credit/debit cards (VISA, VISA Electron, Maestro, MasterCard) are widely accepted. Most ATMs accept foreign bankcards and ATMs are very easy to find, there is a number of them throughout the city centre of Pécs.
There are many exchange offices in the city centre of Pécs.